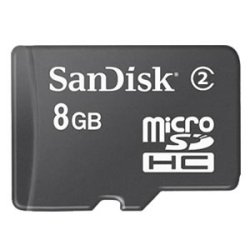 How many of you have started using micro SD cards? If you have, what is your experience? If you haven't, why not? I recently started using the micro SD cards from Sandisk after avoiding them forever. I just figured, they're so damn tiny, they had to be annoying. But after using them, I've found them pretty darn useful and even though they are obscenely tiny, I'm sold.
They are especially useful for moving songs betweens between your MP3 player and phone. (Assuming you have the micro SD slot). Say you have an 8 GB MP3 player. An 8 GB card doubles your storage. That's a no brainer. But the fact that you can take the card out and use it on your phone or other device is where they are handy.

And yeah, they are damn tiny, but once you start using them, you get used to it and hopefully don't lose it in your couch or get it sucked up by a vacuum cleaner. It's handy. In fact, I wish more of my devices had a microSD slot.
My point is that I have avoided using these things and was pleasantly surprised by how versatile they are and how much I use them now. So it got me thinking that there must be others out there who have avoided them or just started enjoying using them. Or maybe you've avoided something else that turned out to be useful later. So we want to hear from you.
card, micro sd, SanDisk, Storage