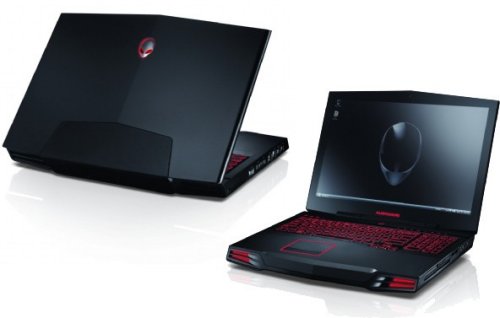 Dubbed the "all-powerful" gaming laptop, Alienware just may be onto something here. It features a pair of 1GB NVIDIA GeForce GTX 280M GPUs, a Core 2 Extreme quad-core CPU at the top end with up to 8GB of 1333MHz DDR3 memory, and 1TB of 7200-rpm disk or a 512GB SSD.
RAID 1 or RAID 0. You'll also get a nine-cell battery, FireWire, 4x USB, eSATA, ExpressCard, 802.11n WiFi, 8-in-1 media card reader, dual-layer Blu-ray, a 1920 x 1200 pixel edge-to-edge LCD, DisplayPort and HDMI-outs all in a package that weighs 11.68-pounds.

It also has a GeForce 9400M G1 GPU with HybridPower technology so you can scale the graphics back to conserve battery power. It starts at $1,799.
Alienware, gaming laptop, GPU, GTX 280M, M17X