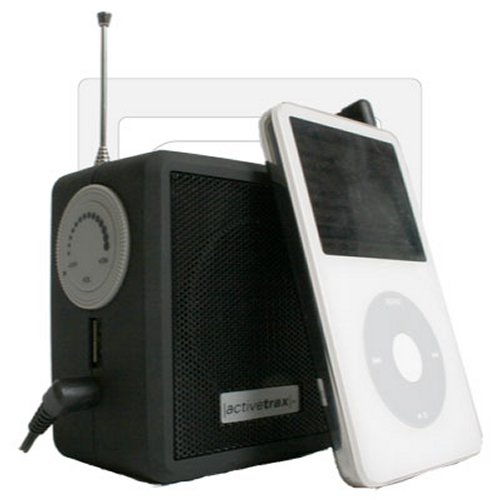 We're always on the lookout for MP3 speakers, so we had a chance to check out this one from Seattle Sports Co. "Activetrax On the go audio". It's designed for camping situations and features AM/FM, weatherband and also serves as an MP3 speaker. It comes with it's own protective case and can operate by either solar or crank power. So it would seem to be ideal for camping.
As an MP3 speaker, it does the job, but don't expect high quality sound. It gets pretty loud, but as with most of these type of speakers, the louder you crank it, the more sound problems you have.

AM and FM are pretty much the same story. But if you are out camping, you are not after great sound. You just want some music with your wilderness. What this gadget is, is a good update to the old transistor radio. With the hand crank and the solar power options, it's a good little radio to have on hand for emergencies or to always have with you in case of emergencies. That's how this little guy is handy. No batteries are no problem. A good thing to have in your car at all times. $49.95 seems a bit steep though. Then again, in a emergency, you'd be glad you paid it.
Activetrax, am, camping, fm, MP3, Radio, speaker