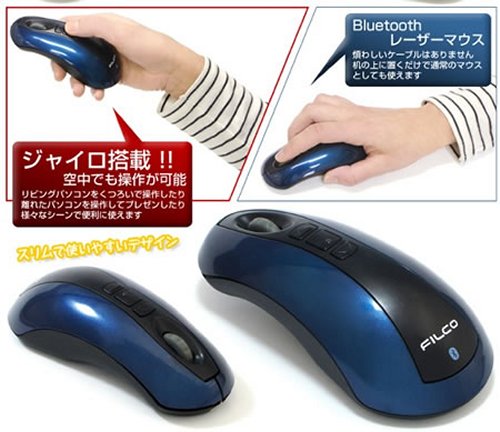 This is the 2-in-1 mouse BTLS90 by Filco. It can't decide what it wants to be. It features a gyro sensor so you can use it either on a desk or in the air like Wiimote. It doesn't actually fly, unless you waving it around counts as flight. The mouse features an 800dpi resolution along with a USB-rechargeable 550mAh internal battery.
It isn't much of a looker is it? I mean, it's like a blue/black wiimote just swallowed a TV remote snake style and now it's in for a long digestive process. It has a rather large butt too. The design team must have struggled for hours to figure out a way to make consumers stay away at all costs.

We like our gadgets sexy Filco. Not big in the old blue butt.
2-in-1, flying, mouse, Wiimote