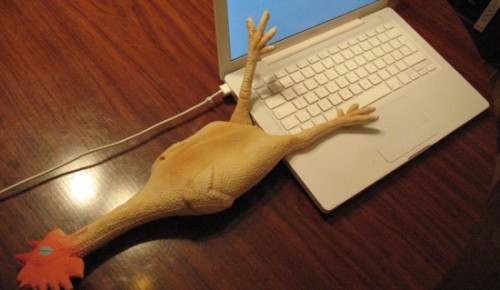 If you're one of those people who find the mere sight of a rubber chicken hilarious, you'll want to check out this rubber chicken drive. I've never understood rubber chicken comedy myself, but hey if I saw some guy getting beat with one, I might feel different.
You guessed it. Some guy took a USB flash drive and lovingly rammed it up this chicken's henhouse. And so a DIY USB Rubber Chicken Flash Drive was born. And the thing is huge, lending to the comedy aspect. Why not park yourself in some cafe and connect this thing to your computer?

Tell them that usb drive makers have fallen on hard times and are forced to use what they have on hand.
comedy, DIY, drive, hack, mod, rubber chicken, USB