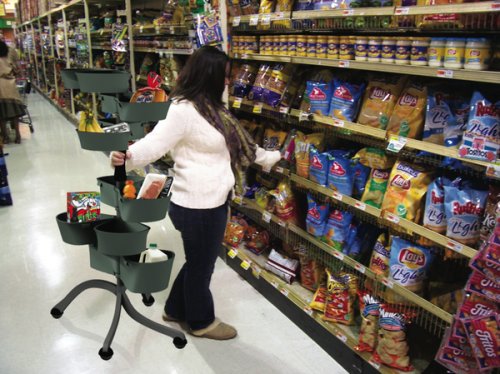 We've seen a surprising amount of shopping cart inspired design here at the "Brick. Sometimes artists turn them into furniture, other times it's more about real world grocery store innovation, like the design above. And let's face it, the shopping cart needs an overhaul.
With the UpCart, shoppers could use their carts like a storage system. Put your heavy items near the bottom, lighter items on top. The design makes a lot of sense. The bins can be easily moved around in any position for easy access. This cart may even help prevent traffic jams on aisle four. Maybe.

Line the bins with bags and you have a real time saver at checkout. The main problem is that they would be all too easy to tip over if a user puts heavy stuff near the top. Still a great design.
concept, design, grocery store, Shopping carts, UpCart