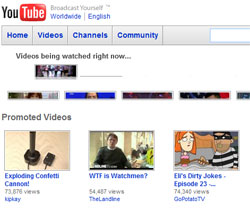 YouTube might not be making that much money for its owner Google today, but the site certainly draws a huge amount of visitors. YouTube has all sorts of videos from blog-like entries to car crashes and everything in between including music videos from top artists.
YouTube and Universal Music Group have announced that they are launching a premium music and video service called Vevo. The site promises to offer UMG's broad catalog of artists and will allow users to create and upload their own videos using UMG songs.
The service will launch later this year according to the two companies. The content will be available through YouTube on a special Vevo branded video player. The two companies aren't specific about when the service will launch and while they call Vevo a premium service, it appears to be a free offering.
Universal Music, Vevo, YouTube