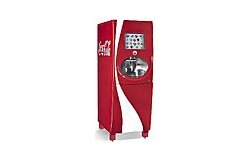 Coca Cola has more up its sleeve than just high fructose corn syrup and sugar. The company is coming out with a Windows-powered vending machine that will gather more statistics than any other vending machine on the market.
The machine will offer more types of drinks and flavors of Coke and will also keep track of what was sold and when, thus giving Coca-Cola some valuable intel with which to fight the cola wars. The vending machine can also alert the restaurant's owner, and Coca-Cola, when one of the cartridges is almost empty.

I guess Pepsi machines will be running the Mac OS, cost a little more and come in half size cans. Just kidding Mac guys. No need to wield torches in the comment section.
Coca-Cola, Coke, display, machine, touch, veding, Windows