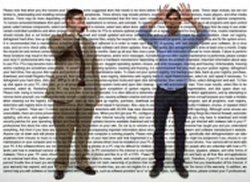 The Mac VS. PC war is still raging, albeit in a quiet nerd way, not a full out battle with explosions. You've probably seen Apple's new Hodgman ads. The "legal copy" ad is the most interesting. Whenever Hodgman says how easy PCs are to use, a bunch of fine print explodes upwards. The folks over at MacJournals have actually transcribed every word of it. Nearly two full pages. Here's an excerpt:
To remove unneeded bloatware first open uninstaller, select applications to remove, and uninstall. To remove optional components, click start, go to all programs and open control panel, select remove components, select components you want to remove, select next, when done, select finish. Once initial prep is complete, PCs may then be easy to use under certain controlled conditions and when properly maintained. In order for PCs to achieve optimal performance on a regular basis and for long periods of time, routine maintenance should include (but is not limited to) the following: download and install updated anti-virus software, run anti-virus software, check for system updates, clean out registry, defragment hard drive, free up disk space, remove temporary Internet files, empty the recycle bin, remove unnecessary programs, run error check utility and fix file system errors.

Fine. Whatever. But what I have noticed more and more is that while Microsoft's ads focus on more practical concerns for the user, Apples ads come across as if they are just trying to be dicks. Your mileage may vary. Can't we all just get along?
ad, Apple, legal copy, Microsoft