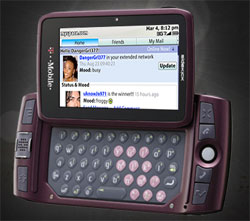 Smartphones are booming today despite the fact that the economy is worse than sitting through an episode of Dancing with the Stars (ok so maybe the economy isn't that bad). Despite the fact that computer and electronics sales are down, sales of smartphones are still growing nicely. Some analysts say that's because consumers are looking to devices that can fill multiple needs, which the average smartphone can.
T-Mobile users will soon have a new smartphone that they can choose called the Sidekick LX. The LX is T-Mobile's first 3G enabled Sidekick and integrates social networking applications Facebook, MySpace, and Twitter in a bundle. Other features include built-in GPS, a 3.2-megapixel camera, and a integrated music player.
The camera has integrated LED flash and can record video and share videos via uploads or email with social networking sites and YouTube. The screen is 3.2-inch F-WVGA with a resolution of 854 x 480. The full QWERTY keyboard that Sidekick users know is still here and the phone has Bluetooth 2.0 with A2DP and includes a 1GB microSD card. Supported networks include GSM, GPRS, and EDGE along with dual-band UMTS and HSDPA. The phone is available for pre-sale now for $199.99.
3G, Sidekick LX, smartphone, T-Mobile