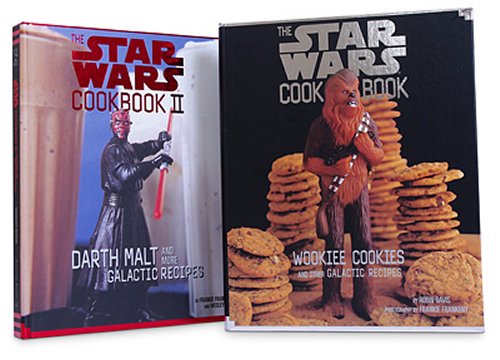 You've got your Fancy replica lightsaber, your pajamas and you attend all the conventions. You cross dress and wear your hair in Leia buns. Remember that surgery you considered to make yourself look more like Jar Jar? Despite all of that you can't actually live in the Star Wars universe. But you can eat like you do.
With the help of the Star Wars cookbooks, you'll be making Wookiee Cookies, Jedi Juice Bars, Dark Side Salsa, Boba Fett-Uccine, and more. Rachael Ray ain't gonna show you how to make these dishes. Two volumes full of recipes from a galaxy far far away.

$10.99 and $14.99. I wonder if they tell you how to make Ewok soup.
cookbooks, cookies, food, geek, Recipe, Star Wars