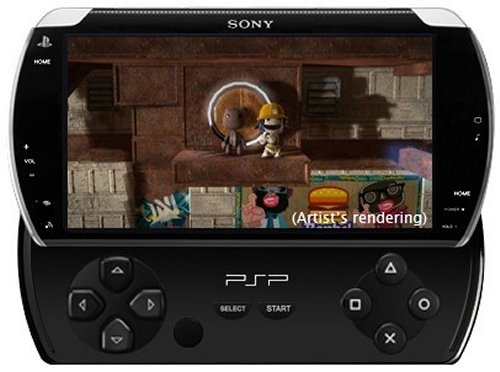 Rumors of a major PSP hardware redesign have repeatedly surfaced over the last several months. There have been claims that the UMD disc drive is gone, and others pointing to a second analog stick and sliding screen. 1up cites some sources directly involved with the new system and says that Sony will unveil their revamped PSP at this year's E3 conference in June.
Here's the breakdown. The UMD is gone, replaced with options for 8GB or 16GB of built-in flash memory. Three rumored names include PSP Slide, PSP Flip, and PSP Go!. That last borrows from Sony's Go! brand and has us thinking there might be a built-in camera. The same D-pad, analog nub, and face button configuration, but they now slide out from the bottom of the unit.

The expected launch is September for Japan and late October or November for the US.
e3, PSP, slide, Sony