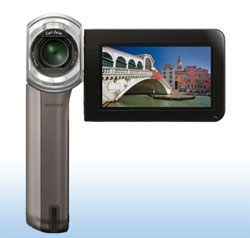 Camcorders are one of the many electronics devices that tend to travel with people when they go on vacation. The problem is that travelling can be very hard on items like camcorders that have sensitive components. Camcorders ideal for travelling also tend to have small dimensions that are easy to store in a suitcase.
Sony has announced a new camcorder called the HDR-TG5V that is small and has a rugged frame made from titanium. The camera is a dead ringer for the Sony TG7VE we reported earlier this week. A quick look at the specs shows that the two machines are indeed similar under the skin as well.
From what I can tell, the difference is the titanium frame of the TG5V. Features of the camera include 1920 x 1080 full HD recording to internal 16GB flash storage and the ability to record to MemoryStick Pro memory cards as well. Integrated GPS and map software allows browsing of images by clicking on a map. Face detection and smile shutter are included and the camera uses the Exmor CMOS sensor and can shoot 4-megapixel still shots. The 2.7-inch screen is also touch sensitive for browsing photos and 10x optical zoom is featured. The price for the titanium camcorder is a cool $999.
camcorder, HD, Sony, travel