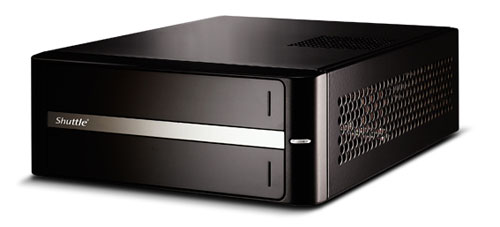 It wasn't so long ago that if you wanted a HTPC, the best you could hope for was a computer roughly the size of your average cable box and a bit thicker. Today there are a number of very small and thin HTPC systems available that are sized more like a Nintendo Wii.
Shuttle has announced a new machine, that is larger than the Wii for sure, but still compact enough to fit into an entertainment center or onto your desk called the X270V nettop. The little machine is designed to run openSUSE Linux and features an Intel Atom processor.
The machine uses the dual-core Atom 330 CPU at 1.6GHz and supports hyperthreading. The board has a single DDR2 DIMM supporting up to 2GB of RAM. Other features include HD 6-channel audio and support for a single 2.5-inch HDD. A slim DVD burner is optional with the system and DVI video out is featured. The PSU for the system is a 60W unit.
Linux, nettop, Shuttle