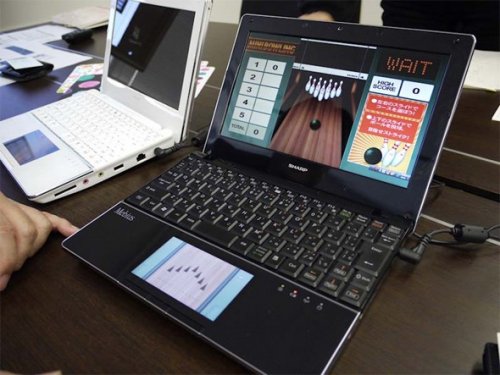 If you like secondary displays, Sharp has something you'll like in their Japanese Mebius PC-NJ70A. The guts of this machine are pretty boring, but it does feature an interesting trackpad. An 854 x 480 resolution LCD, which automatically adjusts brightness depending on the surrounding light and can probably function as a secondary display.
Aside from that, this netbook is boring with a capital B. Some other features include a 10.1-inch display (1,024 x 600), 1.6GHz Atom N270 processor, 1GB of RAM, a 160GB HDD, three USB 2.0 ports, Ethernet, WiFi, Bluetooth 2.1+EDR and a multicard reader.

No price yet, but the rumor is that it will cost you around $817.
LCD, Mebius PC-NJ70A, Sharp, trackpad