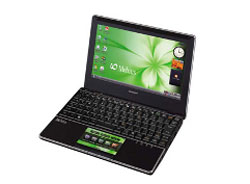 With virtually every computer maker and a few non-computer makers jumping into the netbook realm it can be hard to differentiate one netbook from the other in a consumers mind. All of the machines run the same hardware, software and offer virtually identical specifications.
Sharp unveiled a new netbook last week called the Mebius PC-NJ70A that set itself apart from the pack with a feature of dubious value — a second LCD where the track pad should be. The track pad controlled the cursor like you expect, but could also play video and accept handwriting to be converted into text on screen.
I think that the feature is nothing more than a drain on battery life and has no real benefit for users, but if you feel differently, Dynamism will be bringing the netbook to U.S. consumers in June. The downside is that the netbook will sell for a whopping $999. For that kind of money, you could get three netbooks or a notebook with much more performance.
Mebius, Netbook, Sharp