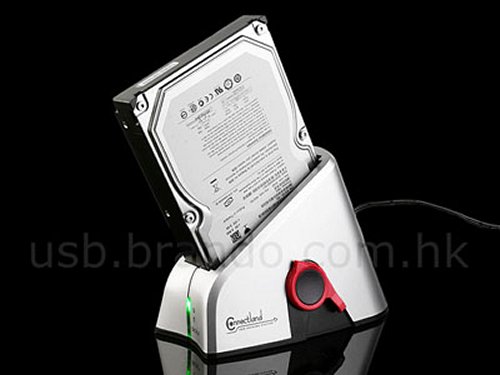 Some of Brando's gadgets are pointless, while others are useful. This would be one of the useful gadgets. A SATA HDD Dock with One Touch Backup. This device allows you to plug in any 2.5″ or 3.5″ SATA hard drives to your PC via USB or eSATA.
With the one touch backup function you can easily copy files and data from your PC to an external HDD. The device supports Windows 2000, XP, Vista as well as Mac OS. It will only cost you $49.

Here's whats in the box: Connectland SATA HDD Dock with One Touch Backup (USB + eSATA), Universal AC Adapter (100 ~ 240V, 50/60Hz), Mini USB Cable, eSATA Cable, SATA Single Internal to eSATA Port Adapter Bracket, User's Manual, and CD Driver.
Dock, hdd, one touch backup, SATA