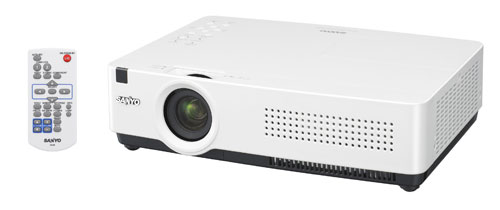 Video Projectors have replaced the filmstrip projectors and overhead projectors that teachers used when I was in school. Today the teacher can simply pull up a page on her computer or run software and let the whole class view it on a screen or the blackboard. Projectors are certainly much better than fighting those stuttering filmstrips that always seemed to get out of sync with the audio.
Sanyo has announced four new projectors aimed at both the classroom and the boardroom called the PCL-XU355, PLC-XU350, PLC-XU305, and PLC-XU300. The most interesting pair out of the quartet are the XU355 and the XU305, both of which offer the industry's first Simple Wireless Setting feature via a USB memory stick.
The feature allows the wireless settings of the projector to be programmed by simply plugging an included USB drive into a Mac or Windows PC and all settings to create a wireless connection to the projector are installed automatically making configuration easy. The projectors all share a 1024 x 768 resolution and a max screen size of 300-inches. Brightness varies from 3000 to 3500 lumens. The projectors will also hip in mid-May starting at $1,295 and going to $2,595.
education, projector, Sanyo