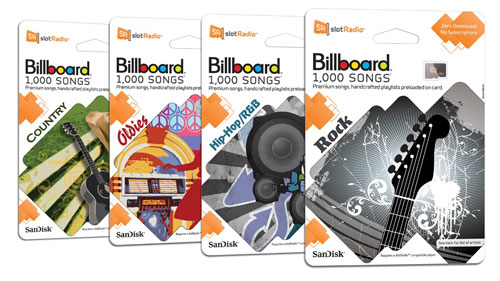 I still don't get the slotRadio format. I can see what the record companies are trying to do, but they still don't seem to get why consumers prefer digital tracks to physical formats. With a digital track, you can port the song to multiple devices, assuming there is no DRM. SlotRadio tracks are stuck on the microSD card, which might as well be a CD.
SanDisk has announced the launch of four new slotRadio cards from Billboard that each feature 1,000 tracks. Each of the cards covers a different music genre and will sell for $39.99. The genres covered include rock, country, oldies, and Hip Hop/R&B.
The Rock card has tracks form Coldplay, Santana, Bon Jovi and more. The country card gets Johnny Cash, Hank Williams Jr., George Straight and more. Billboard's oldies card offers Elvis Presley, The Beach Boys, Smokey Robinson, and more. The final card is the Hip Hop version offering Akon, Snoop Dogg, Marvin Gaye and more. The songs require a slotRadio player to play.
microSD, SanDisk, slotRadio