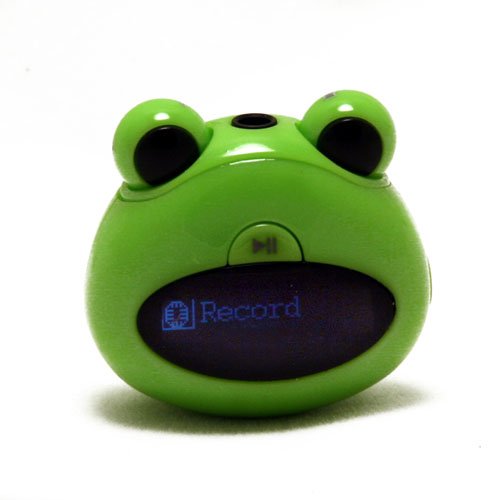 Well, this is certainly the strangest MP3 player we've seen this week. Too bad they didn't go all Kermit the Frog with this guy. They may have actually sold more. The Toys R Us 'Ribbit' MP3 player comes with five play modes (normal, repeat one, repeat all, folder, repeat folder). And an eight-mode equalizer.(normal, rock, pop, classical, bass, jazz, soft, and SRS WOW)
It also sports a high-speed USB 2.0 interface, play-list function, and support for seven languages. A built-in rechargeable Lithium Ion battery is the power source. Not bugs. You'll get up to six hours of continuous playback with a fully charged battery.

The models are fully upgradeable to any future formats and features. Accessories for both include earphone, USB cable, instruction manual, and an installation CD.
The Ribbit' MP3 player has 1GB of memory and plays both MP3 and WMA files, with voice-recording capability, and features a durable OLED display in it's big mouth. Available in both green (PT 375C) and pink (PT 212C) for $24.99.
frog, MP3 player, music, ribbit, toad, Toys 'R' Us