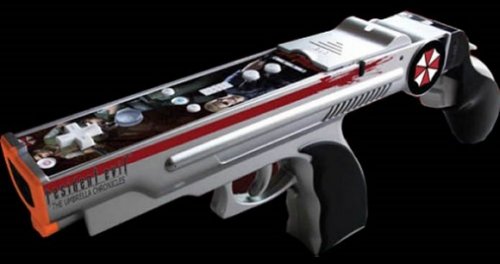 Few things in life are better than shooting zombies with a plastic gun. Unfortunately, most of the gun accessories for the Wii are pretty boring. Gamers want something that stands out. A gun they can be proud of. One that they will give a female name too and tote with them in their backpack.
Well, this new Resident Evil Shot Blaster is just the ticket. It shows that you are serious about your zombie hunting and spend way too much time in your mother's basement. You can purchase the gun for $29.95 online from Capcom. It includes Resident Evil-style Wiimote and Nunchuk skins.

Perfect for the Wii addict who has everything.
Nintendo, Resident Evil, Shot Blaster, Umbrella Chronicles, Wii