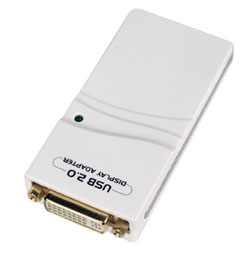 Mac users are a tight group for the most part that is so proud of their hardware and software that many become rather militant towards criticism of Apple. One of the things that can be said about Mac computers is that there is much less support for upgrading Macs than there is for upgrading Windows computers.
If a PC user wants to add a second monitor to their computer and they need a new video card Walmart, Best Buy and a bevy of other sources sell video cards for little cash. The Mac user on the other hand has significantly less options. Mac supporting firm OWC has announced a new USB video adapter that works with both Mac and Windows machines.
The video adapter plugs into the USB port of a computer and gets all the power it needs directly from the USB port. That means no power adapter is needed. The adapter adds a second display to the system and supports digital resolutions up to 1680 x 1050 for LCDs and CRTs. The adapter also supports Vista Aero and Windows XP in addition to Intel-based Macs. The adapter is available now for $99.99.
OWV, USB, Video Adapter