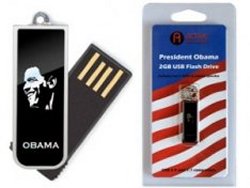 President Obama is a superstar. That's why everyone is cashing in on his face. One of the latest gadgets to bear his likeness is this Obama USB flash drive. It comes with 2GB of genuine hope and is pre-loaded with more than 30MB of bonus material, including the President's Inaugural Address and his landmark "Race Speech" in MP3 format. That's almost 60 minutes of audio right there.
The speech is also in PDF format. Not enough? How about an official White House Obama photo to print and frame? The drive is waterproof and priced for this economy at only $10.

Yes we can…have an Obama USB drive.
flash drive, Obama, president, USB