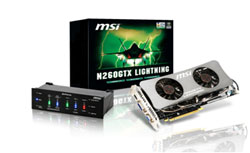 There are tons of video cards on the market today from various manufacturers and for the most part the only thing to set one brand apart from the other is brand and if a video game is bundled with them. Lots of manufacturers overclock the cads to get more performance right out of the box.
MSI has announced a pair of new video cards called the MSI N260GTX Lightening and Lightening Black Edition. The two cards are the same but the Black Edition offers a front case panel called the Air Force panel that allows overclocking directly from the panel.
Other features of the cards include the world's first 10 phase PWM that provides the GPU with 8 phases and the memory with 2 phases for ultimate stability. The cards also use solid caps for stability and double the amount of RAM on compared to a normal GTX 260 to 1792MB. The cards also use a custom twin fan cooler dubbed the Twin Frozr. Pricing and availability are unknown.
MSI, NVIDIA, video card