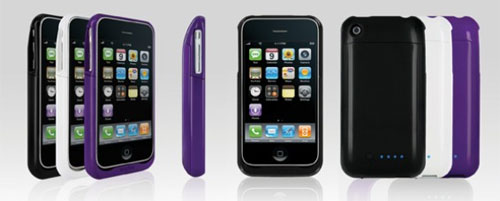 One of the worst things about my original iPhone is that the battery just doesn't last long. If I play games for more than half an hour half the battery life is gone and surfing the net on the device does the same thing. I purchased a Mophie Juice Pack for my original iPhone to solve this problem.
Mophie announced a new product for the iPhone 3G back in February called the Juice Pack Air. The device is billed as the world's thinnest external battery/protective case available for the iPhone 3G.
The device is now available globally on the Apple.com website and at Apple Stores. The case offers 1200 mAh of juice in a very thin case that protects the iPhone as it extends its battery life. The case is available in black, white, and purple for $79.95. The battery can improve runtime up to 4.5 hours on 3G networks and allows for up to 20 hours more audio playback.
iPhne 3G, Juice Pack Air, Mophie