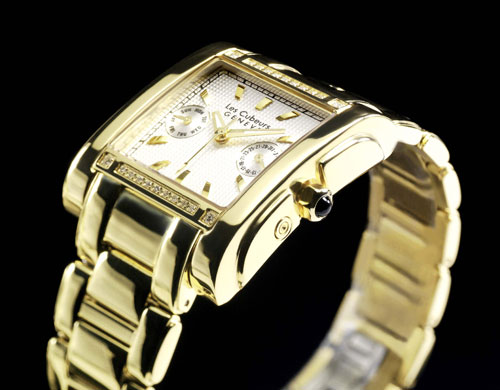 James Bond was one of my first contact points with the world of cool gadgets as a kid. Bond always had the cool stuff from cars that turn into submarines, to hot chicks, and watches that had frickin' lasers inside. One watchmaker has announced a new high tech watermark that sounds like a method of sending Bond covert instructions.
Watchmaker Les Cubeurs has announced that it is now using a special high tech watermark on the crystal of its watches. The watermark is made using a special laser etching process and invisible digital ink. The goal of the watermark is to allow the company and its authorized dealers to determine a real watch from a fake.
The exact process used to see the watermark is not described in great detail. All the watch maker will say is that to see the watermark requires that the hands of the watch be set to a specific time of day and a special pair of glasses are required.
watch, Watermark