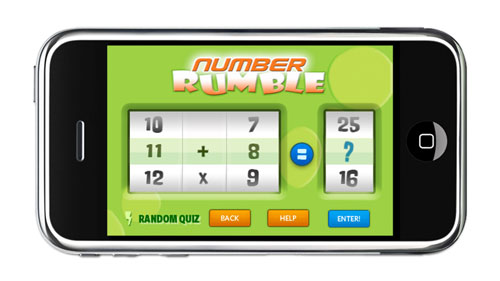 Any parent knows the type of toys LeapFrog makes. The company has a line of educational toys that teach kids of all sorts of things like phonics and math. My kids have a set of refrigerator magnets they play with constantly from the company that teaches phonics. If I hear "every letter makes a sound" one more time I may snap.
LeapFrog is now moving from the refrigerator onto my iPhone with the introduction of the company's first iPhone App called Number Rumble. The game is a math quiz program that helps kids six to ten years old learn addition, subtraction, multiplication, and division.
Using the touch interface and accelerometer of the iPhone and iPod touch kids can learn about each of the four math operations. In Learn It mode kids can choose an operation, spin the number wheel, and then tap the equal sign to hear the answer. Quiz Time lets the kids spin the number wheels and then shake the iPhone to get possible answers to choose form. Random Quiz tests all four operations at once with fill in the blank type answers. Number Rumble is available on the App Store for $2.99.
app, iPhone, leapfrog