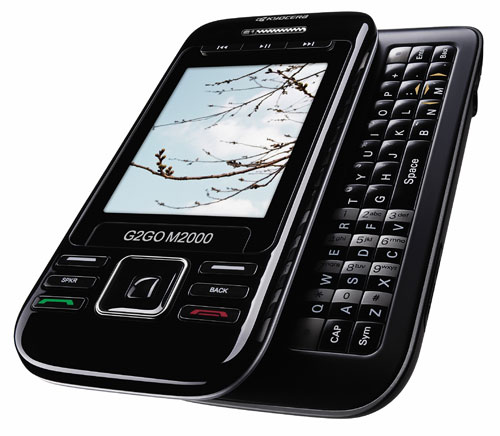 Of all the people I know who use cell phones, the single most common application they use is texting. A few of my friends text pretty much constantly and prefer texting to voice calls, which many users do. For the heavy text user, a phone that is designed for easy texting is necessary.
Kyocera has announced two new phones that are aimed at heavy text users and have a low price. The first of the two handsets is the Kyocera G2GO M2000 slider. A full QWERTY keyboard slides out in landscape mode for easy texting. The device supports Bluetooth, SMS, EMS, MMS, IM, and POP3/IMPA email. A 1.3-megapixel camera phone is built-in and memory expansion is up to 8GB with a microSD card.
The other handset is the Laylo M1400 with a 2.2-inch screen and Bluetooth integrated. The device has a WAP 2.0 web browser built-in and is BREW and JAVA enabled. Measurements of the handset are 94.7 x 46.7 x 17mm and it offers 200 minutes of talk time and 200 hours of standby time. Kyocera says that the phones are cheap, but doesn't mention official pricing.
cell phone, Kyocera, texting