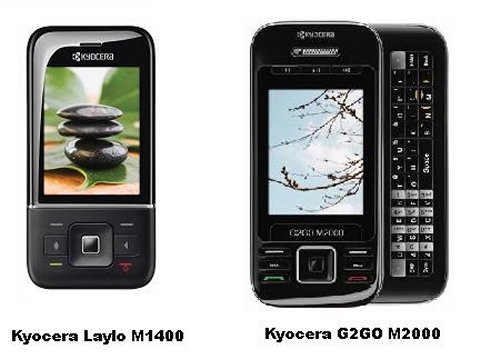 Kyocera intro'd two new CDMA phones, the G2GO M2000 & Laylo M1400, at CTIA 2009. Both are sliders on the budget end of the spectrum. The Kyocera G2GO M2000 sports a 2.4-inch display. Some main features include e-mail, speakerphone, messaging, 1.3-megapixel camera, microSD card slot, WAP browser, voice dialing, personal organizer, Bluetooth with stereo, 500-contact phone book, 3G support and of course, a music player.
The Kyocera Laylo M1400 features a slide-out standard numeric keypad, 2.2-inch display, Bluetooth, 500-contact phone book, VGA camera, text and multimedia messaging, speaker-independent voice recognition, speakerphone, WAP browser, instant messaging, personal organizer and a voice memo recorder.

Kyocera didn't announce any prices or dates yet since it depends on the carrier.
budget, G2GO, Kyocera, Laylo M1400, M2000, phones