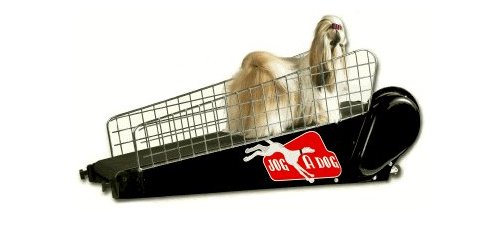 You know who you are. You people with your little dogs that have big stomachs dragging on the floor. Whether it's from too many treats or a serious lack of exercise, the Jog A Dog doggie treadmill will shape your pooch up in no time.
It comes in 4 different versions, for toy dogs all the way up to your giant beasts. The treadmill will do between 1 and 10 mph, are very quiet and supposedly maintenance free. Well, you'll have to clean up the puke. Your little guy is so out of shape, it probably thinks this is astronaut training. The treadmill also features an easy grip surface and the running surface can be removed and cleaned.

It will cost you from $1,195 up.
exercise, fat, gadget, Jog A Dog, pet, pooch, treadmill