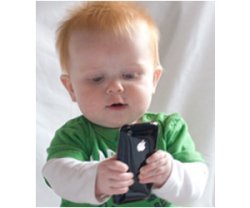 Apparently there aren't enough slobbering babies teething while biting down on an iPhone. That must be why a developer in Colorado created an iPhone app that caters to babies specifically. The iPhone Pacifier 1 application.
The app teaches kids aged 1-3 basic cognitive, vocabulary, and counting skills while keeping their attention with "stunning visual effects" and classical music. Hmmm. Sounds just like adults. The difficulty settings can be adjusted should you have a smarter than average baby.

I hear you. No way are you letting your toddler's drool and snot anywhere near your iPhone. Maybe they can make a cheaper version for the kids. Think about the kids. The iPhone Pacifer 1 is available on iTunes for $1.99.
apps, babies, iPhone, learning, teaching, toddlers