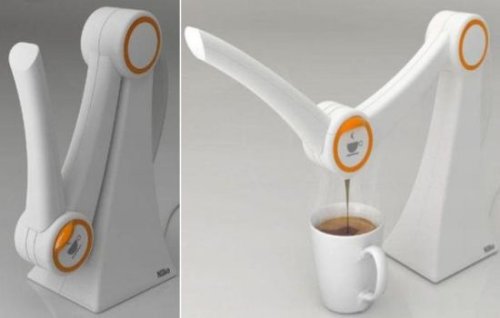 Designer Alisson Wilson Ströher's IMO coffee maker is all about being compact and practical for your home. But it looks like a robot arm. Everytime I had coffee I would be sad that I don't have the rest of the robot. I might search online and see if I can order his other parts, which would make me sadder. Because you can't.
Would you keep a robot arm in your kitchen? This coffee maker can adjust its height so you can fill cups of any size. You can also brew three packets of coffee without changing the water inside. It's only a concept, but if it existed, it would cost just $130.

Why not have a home full of arms? For stuff like water,beer,coffee,brushing teeth…Robo-arms are the wave of the future.
arm, coffee maker, concept, iMo, robot