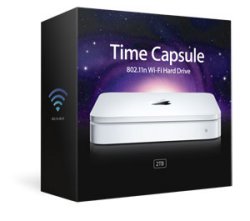 Looky here. Apple retailer ClubMac's 500 GB Time Capsule page is currently NOT showing an image (shown here) of a 2 TB Time Capsule retail box in its "Product Detail" section. At one point, it apparently was showing such a box. Apple's Time Capsule combination wireless router and network-attached storage drive is currently available only in 500 GB for $299 and 1 TB for $499.
It may turn out to be real. 2TB 3.5″ hard drives have recently become available, so why not? The original source of the image used on ClubMac's site is unknown.

For now a 2TB Time Capsule remains elusive like Bigfoot or the chupacabra.
2 TB, Apple, image, Mac, rumor, Time Capsule