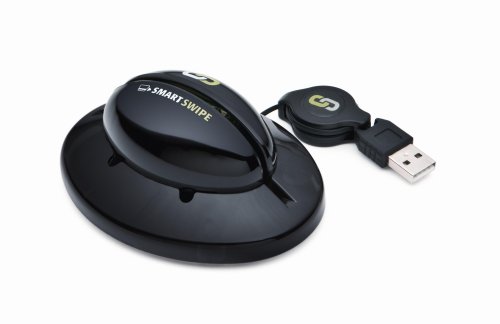 If you're paranoid about your credit card info while shopping online, (And who isn't?) it just got a little safer thanks to the SmartSwipe credit card reader. You might think you're safe online as long as that padlock icon is displayed in your browser. And you are pretty safe, but not completely, hackers can still access your personal information while it is being entered into your computer and while it is still in memory.
With this SmartSwipe card reader your info is safe becaue your card information is never stored on your computer. The device uses Dynamic SSL technology and the same level of encryption used in bank machines and ATMs.

Instead of typing in your card number on the checkout page, just swipe your card. It encrypts the info BEFORE it enters your computer. On the order page of whatever site you are buying from, you are blocked from typing the card number in. Instead just swipe the card and you are done. It couldn't be easier.
The device is about the size of an egg, so it's completely portable and great for those who travel. I tested it on a few shopping sites and the process is smooth and looks to be just as safe as the manufacturer claims. It's a pretty useful little gadget and even if you think you are safe already, it should give you some peace of mind.
This device has been in the works for a few years, but just got limited release 3 months ago. They have plans to distribute it throughout Canada in the next few months too and throughout the US by fall. Anyone in North America can get it through the website right now for $99.95. If you do a ton of shopping, it also beats having to type in the number again and again.
It doesn't seem to support Firefox, so I had to use it in Internet Explorer, but I assume they will work on that. We like it. It's safe, simple and fast. They should work with laptop manufacturers to build this device directly onto your laptop.
credit card, Hands on, online, reader, Review, safety, Security, shopping, SmartSwipe