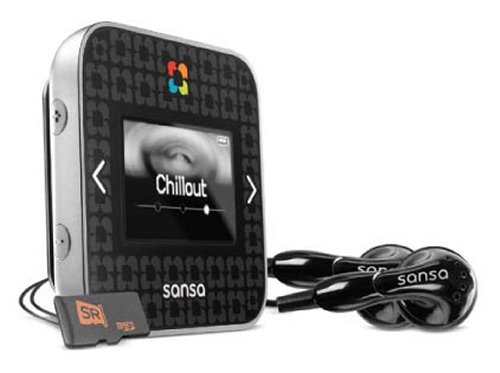 We checked out Sandisk's new slotRadio recently. As a refresher, this player comes with a microSD memory card slot so you can have your choice of pre-loaded music. The idea is that you can get it pre-loaded with Billboard hits cards that hold more than 1,000 tracks and buy other similar cards.
Did we like it? Did we hate it? Is it filled with useless songs that are all played out? You're about to find out.

First the songs. I was really prepared to hate most of them. With any compilation, you usually hate most of them and are left with just a few songs that you like. Well, I don't know if it's just because I have a broad taste in music or not, but I was surprised to find that there is a lot to like in their music selection. Sure, there was a ton I hated, but I liked enough of them that the device kept my interest for a while. With the music selection I got, there's really something for everybody.
The player itself is more or less on the shuffle scale size-wise. It can clip to your belt and comes with FM. I'm sure it works out fine on your belt, but when pushing the buttons on each side of the player, it can be awkward and because it's so thin and square, this can lead to you dropping the thing just trying to get to the next song, but I guess you get used to it. The left and right buttons on the face of the device switch the genres for you. I found these buttons to be a bit awkward as well as you have to push down a bit harder then is usual.
It's functions are simple. Adjust the volume, pause, next song and switch between genres. Problem is, with a thousand songs, you want to be able to navigate a bit more, so you don't have to skip through twenty songs to find one you like.
Bottom line for me is that the music selection was better than expected, but the player is not well designed. I figure it makes a good gift for any casual music listener. Everyone will like some of the music. But it's not for the serious listener. That's my take on it but the review doesn't end there…
I had my chance to familiarize myself with it and spend some time getting to know it, but barely. My 15 year old son found it and I have not seen it since. He's been using it quite a bit. More then I would have thought. I think he owns it now. So make of that what you will. I'm guessing that means that kids at that age should like it a whole lot.
Hands on, music, player, Review, SanDisk, slotRadio