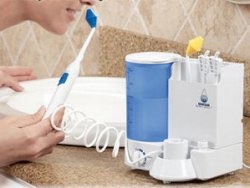 Swine Flu got you down? This gadget may help clean your nose from harmful bacteria and other nasty stuff. The Grossan HydroPulse Nasal Irrigator shoots warm saline through your nasal cavities to flush out all the stuff which can cause problems.
Only $149.95. A clean nose is a healthy nose. Many people swear by clearing their sinuses in this way. These days with the pig/bacon/bird/swine flu you can't be too careful.

Would you guys use this? Or do you find it too gross?
Grossan HydroPulse, Health, Irrigator, Nasal