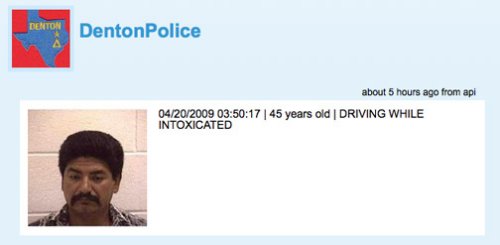 They used to say that when you get arrested, don't go singing like a bird and giving up all of your buddies. Well, times have sure changed. Now it's the man who sings like a bird and rats you out to everyone. If you get arrested in Denton, Texas, your mugshot will be blasted all over Twitter with your age and crime.
But this isn't some innovation from the Texas penal system to humiliate lawbreakers, just a clever art student's comment on how much information is floating around out there. Sometimes the power of Twitter can be downright scary.

Don't do the crime if you don't want somebody tweeting about it.
arrested, art, mugshot, Texas, twitter