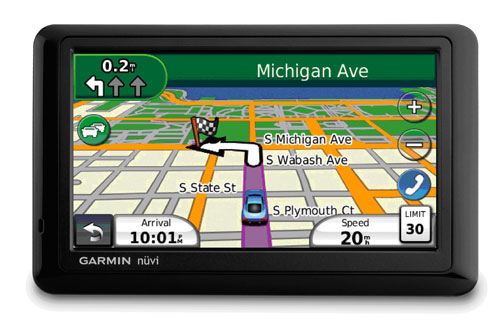 The last time I took my family on vacation without a GPS, I was irritated before we got out of town. I tried to let my wife read the map, which was a bad idea. Perhaps schools should teach basic map reading to girls when they take them out of class that one day during health to learn about girly parts and pregnancy. The easy remedy to this is to use GPS, which can be a marriage saver.
Garmin has announced a new GPS device called the nuvi 1490T that has a thin profile and a large 5-inch screen. The large screen is touch enabled and can save five different routes to allow route planning in advance.
A traffic receiver is built-in to route drivers around traffic, accidents, construction, and closed roads. Lifetime traffic alerts are included with the unit without a subscription fee. To help save gas on trips ecoRoute is included that helps chose a route that will be the most fuel-efficient adding a less fuel option to the faster time and shorter distance options. Bluetooth is also integrated into the device. The nuvi 1490T will be available in July for $499.99.
Garmin, GPS, nuvi