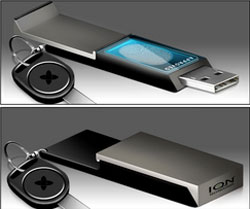 Flash drives are useful little gadgets that allow computer users to easily transfer data between multiple machines and act like the floppy discs of the past. The problem is that moving sensitive files on a flash drive can make for trouble is the drive is unsecured.
Ennova Direct has announced that it has been granted a new patent on a flash drive that features a retractable USB connector. The flash drive has a flip up lid that covers the small OLED screen featured on the drive.
The OLED screen acts as a fingerprint reader to limit access to the files on the drive to only authorized users. The owner would place a finger on the OLED and is the read was good the screen would turn green and if bad the screen would turn red. The OLED also allows the user to view the files on the drive and access the file needed. Ennova says that it expects to market the drive in Q1 2010 via its ION Technologies brand.
flash drive, OLED, USB