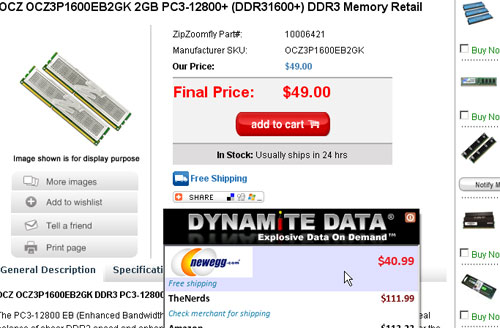 Anytime I am looking to buy some new hardware for my computer it seems like I spend hours comparing prices to find the best deal. Sometimes I get sick of looking and just buy without doing all the comparisons I know I could do and then I end up thinking in the back of my head I could have got it cheaper.
I ran across a new add-on for Firefox called Dynamite Data that is cool and will help find the lowest prices for any product you are shopping for. Once the add-on is installed all you need to do is go to a product page on any website and the add-on will show you how much the product costs from other websites.
That means you can compare prices on multiple websites without actually having to visit the other sites. If the price on the gear you want is cheaper at one of the sites Dynamite Data shows, you can just click the link on the DD window and go to the other site to order. The only wish I have is that it would search eBay listings too then I could decide if dealing with eBay and PayPal were worth the cost savings for the same item.
Add-on, Firefox, shopping