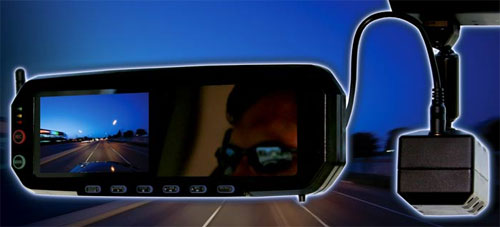 Most police and sheriff departments around the country now use in-car video recording solutions to record video of the events leading up to traffic stops or shootings. These types of in-car video systems serve as proof that drivers are intoxicated or that an officer followed the rules of a traffic stop.
Digital Ally has announced that its latest in-car video system aimed at use in police vehicles is ready to ship. The system is called the DVM-750 and puts everything the video system needs inside the car with noting needing to be mounted in the trunk. The system includes a camera and a rear view mirror with an integrated LCD monitor.
The system can connect to four different cameras and choose two cameras to record form at once and record three channels of audio at the same time. The recording resolution is 720 x 480 and the video is recorded to SDHC memory cards. The device also includes a VoiceVault feature that uses a wireless mic capable of transmitting up to one mile for recording events when the officer is outside of video range.
Digital Ally, In-car Camera, police