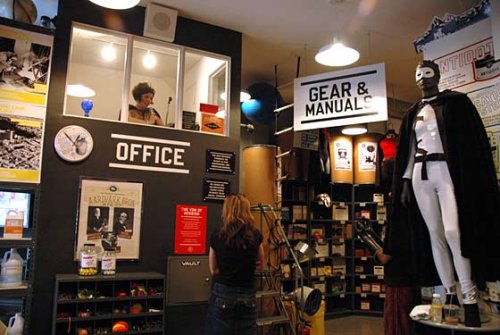 Check out this store in New York. The Brooklyn Superhero Supply store in Park Slope, Brooklyn is a place where you can buy all sorts of superhero supplies. Tools of the trade like grappling hooks, bottles of chaos and gravity, capes, invisibility paint, jars of anti-matter, secret identity kits, deflector bracelets and so much more.
The staff treats the products as real superhero supplies and the customers as real superheros. They even try to get you to quote a superhero oath at checkout.

Like all good comic book heroes, this store has a dual identity. It's a front for the non-profit creative writing and tutoring centre, 826NYC. To enter 826NYC, you must go through a swinging bookcase in the BBS store. Proceeds from the BBS store fund 826NYC directly to help young people with their creative writing skills.
Brooklyn Superhero Supply Co, comic book, heroes, store