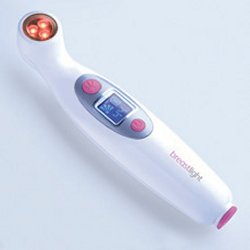 It's important for a woman to check her breasts regularly. But doing breast exams at home isn't easy. And I can't offer my services to everybody. Even if women check their breasts regularly, I'm sure it can be hard to tell if they are doing it correctly.
The Breastlight can help with the home exam, making your breast checks more accurate. It works by shining a bright red beam of light through the breast tissue. The idea is to look for any dark clusters. That's where blood may be collecting and leading to malignant lumps. If it works as advertised, it should be a huge comfort to women.

The Breastlight retails for about $114.
breast exam, Breastlight, Home, tool