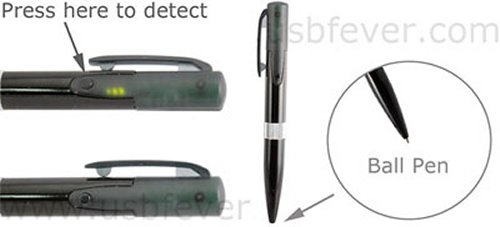 Here's another useful device to have in your pocket. The "Ball Pen With Wi-Fi Detector". This tiny ball pen will help you find a good signal and choose the best place to get access to the internet. Armed with this pen, you will Always find the best Wi-Fi networks.
It integrates an 802.11B and G Wi-Fi detector and strength meter in the form of 4 LEDs. Just push the button and the pen will automatically search for a nearby Wi-Fi hotspot. The pen really is mightier than the sword. I've never seen a sword do that.

The Wi-Fi pen will cost you $13.99.
ball, detector, pen, wi-fi