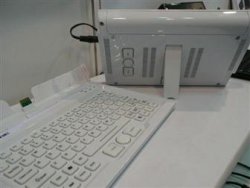 Details are a bit scarce here, but Taiwan's Aware Electronics has apparently been the talk Global Sources trade show, introducing a new netbook with a nice surprise. It features a detachable screen. The only other info is that it will come have just 512MB of RAM, an 8GB SSD, and either Windows or Linux for an OS.
But the most interesting thing is the price. Apparently just $150. Which is about right for the markets they are after. Don't expect it to show up here for that price though.

I'm sure we will see more like this now that its out of the bag.
A-View, Aware, detachable, Netbook, screen