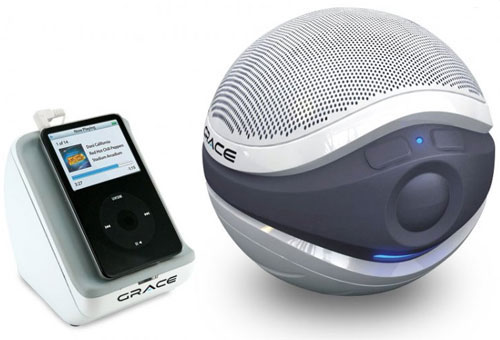 Summer is almost here in many areas. Spring may have only just officially begun, but in the south, the summer heat will be here in mere weeks. That means that many people are already getting their swimming pools ready for the summer.
If you are looking for a way to get some music outside during your pool party without risking shock or frying your MP3 player Grace Audio has a new waterproof speaker system that is pretty slick called the Aqua Sounder wireless speaker. The Aqua Sounder is a round orb speaker that floats on the surface of the water pumping out the tunes from a wireless transmitter up to 150 feet away.
The wireless speaker has a rechargeable battery good for up to ten hours of use. The transmitter can support up to ten speakers at once and the speaker can be submerged without damage. Any playback device with a 3.5mm headphone jack is compatible. The price for the floating speaker system is $149.99 and a pair of LEDs offers mood lighting for those late night skinny dipping sessions with your sweetie.
MP3, pool, speaker