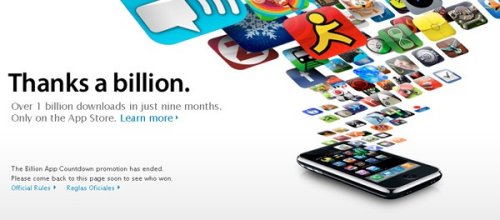 iPod Touch and iPhone owners have been busy over the last nine months. Who would have thought back then that you guys would buy so many apps. Of course it's hard to resist such gems as the wobbly boob app and iBeer. Obviously it doesn't take much to get the public's attention.
Now it's up to Windows Mobile, Symbian, Android, BlackBerry and the rest to catch up. If we can offer some advice to these other app stores…Games and productivity apps are all good, but put an emphasis on farts, beer and booze. You'll catch up in no time.

Congratulations Apple app store.
app, Apple, billion, downloads, iPhone, iPod Touch, store