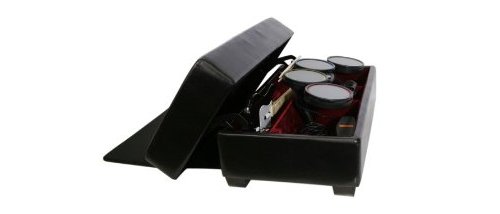 Think of the AK box as an Ottoman for serious gamers. Gamers who love Rock Band, whose instruments need some tidying up. So, if you are sick of tripping over your plastic instruments, this is a great solution. The AK Rock Box Gaming and Storage Ottoman with Drum Lift.
It's a leather ottoman that opens up and has storage for two guitars, a foot pedal, microphone, and drums. It also features a drum lift to raise the drums from storage with one-hand. Since you take the game so seriously, you should take your fake instruments seriously too.

While you are stowing away and unpacking your gear, you can either pretend you are your own roadie or you can force your little brother to be your roadie.
AK, gh, guitar hero, instruments, rock band, Rock Box