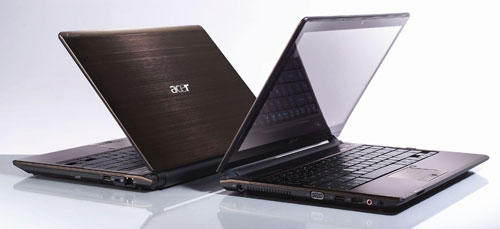 There are many different types of notebooks on the market today with small netbooks aimed at the budget conscious buyer wanting portability and a basic computing experience to the high-end gaming enthusiast wanting the fastest of everything. Another class of notebooks that tend to be large and expensive is the multimedia notebook.
Acer has announced two new notebooks with one of them being a mainstream ultra portable and the other a massive multimedia notebook. The Aspire 3935-6504 is a 13.3-inch ultraportable notebook designed to be slim and easy to carry. The screen has a 1368 x 768 resolution and the notebook weighs 4.1 pounds. Other features include an Intel dual-core T7350 CPU, 3GB of RAM, and a 250GB HDD. The machine is available now for $899.99.
The much larger Acer 8935G is a multimedia notebook with a massive 18.4-inch screen and a massive weight to match at 10.1 pounds. Specifications on the machine are not announced but it will feature ATI HD 4670 graphics, Blu-ray burner, and more. The machine will ship in June.
Acer, multimedia, Notebook