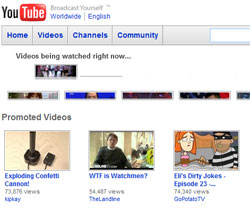 If you ever wondered what most Internet users do while they are on the internet, the answer is watch video according to new research released today. That's really no surprise considering that many TV networks now offer streaming programs and sites like YouTube are so popular.
According to ComScore, YouTube has reached over 200 million viewers for the first time ever. The data shows that 76.8% of all US internet users viewed videos online in January. On YouTube alone viewers watched 6.3 billion videos for an average of 62.6 videos per user.
In total for January, 14.8 billion online videos were viewed during the month with YouTube accounting for 91% of the incremental gain. My favorite video site is Hulu and it streamed 250,473 videos for the month. That is a lot of video for sure and the closest competitor to Google Sites like YouTube was Fox Interactive Media with only a fraction of the amount of videos shown by YouTube.
comScore, online, video, YouTube